Try this wonderfully spice-rich, healthy, warming soup at any time of year. Featuring cumin, coriander, cinnamon, and allspice, you'll be going back for more.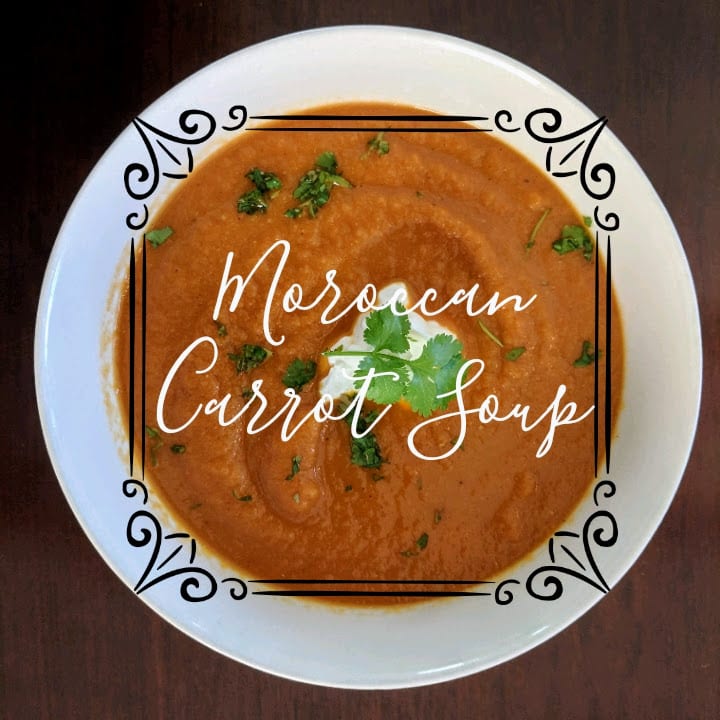 Moroccan Carrot Soup
This week, I'm pulling out a Moroccan Carrot Soup dish!
Some where along the line, my family collected a bunch of random recipes form somewhere. I know my grandmother literally had recipes that were 100+ years old, and even some cookbooks that were older.
Every now and then I like to peruse them and pull out something that sounds interesting. And this carrot soup is it!
I LOVE Moroccan food. The mixture of spices they use, without being *spicy* always entices me. It's borderline fall-favorite spices and borderline Indian spices.
A couple of things I changed from the original recipes, were things like a coriander seed garnish. I find that coriander seeds can be a bit… soapy tasting. And it doesn't take much to ruin a dish. So be VERY careful. Use a light hand when using this spice. Oftentimes that toned-down, already powdered coriander is best.
You could also probably make this a Vegan Moroccan Carrot Soup dish if you leave out the yogurt, and honey, and trade chicken broth for vegetable broth.
Either way, you're getting a rich, healthy, deliciously warming soup that even your five year old might eat! In fact the five year old me would have loved it. There's something about it that reminds be of the old apple cinnamon cream of wheat I devoured so often. Not the new kind. I don't know what they did to the spices in the new kind, or if they lost the old recipe, but it's not the same. OK, off my Cream of Wheat box… but I'm looking at you ghost of Frank L. White!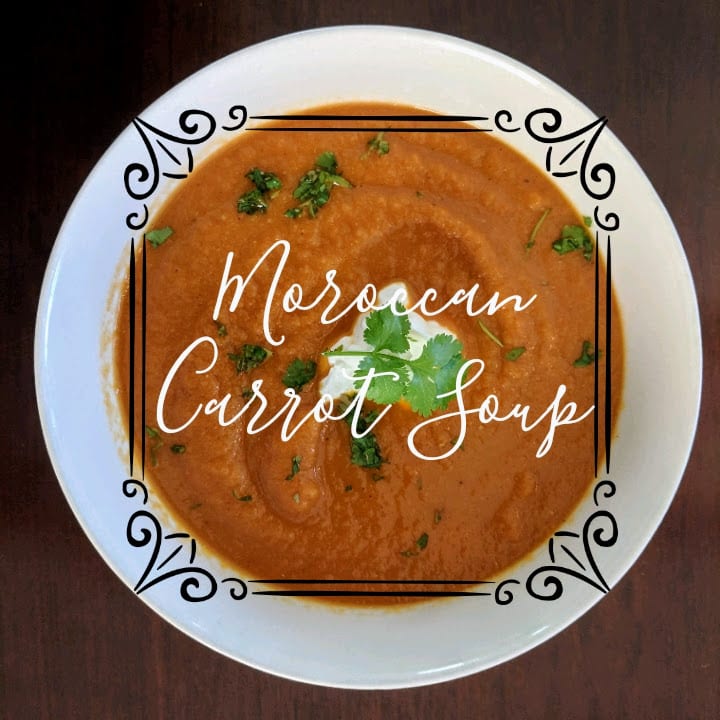 Moroccan Carrot Soup
Try this wonderfully spice-rich, healthy, warming soup at any time of year. Featuring cumin, coriander, cinnamon, and allspice, you'll be going back for more.
Print Recipe
Ingredients
Olive oil

1/2

onion

large yellow chopped

1

pound

carrots

chopped up in a food processor

1 1/2

teaspoons

ground cumin

1 1/2

teaspoons

ground coriander

1

teaspoon

cinnamon

1/8

teaspoon

ground allspice

2 1/2

cups

low-sodium chicken broth

1

tablespoon

honey

1

teaspoon

lemon juice

fresh

Salt and pepper

to taste

Plain Greek yogurt

(for garnish, as needed)

Fresh cilantro

chopped, for garnish
Instructions
Toast coriander, and any other whole spices you might be using in a dry pan over low heat until fragrant. Remove from heat and using a mortar and pestle, grind into a fine powder (or use a coffee grinder that you only use for spices).

Heat oil in a pot over medium-high heat. Add onions, carrots, cumin, coriander, cinnamon and allspice, and sauté for about 2 minutes, until the vegetables start to become soft and the spices release their fragrance. Add the broth and bring the mixture to a boil. Reduce heat to low and simmer until the carrots are tender, about 20 minutes.

Remove soup from the heat, and purée with an immersion blender or blender. Return puréed soup to the pot and stir in the honey and lemon juice, and season with salt and pepper. Reheat soup over medium-low heat, if needed, stirring occasionally to prevent the bottom of the mixture from burning.

Ladle soup into bowls, spoon a little yogurt on top of each serving and sprinkle cilantro over them. Serve hot.
Nutrition
Serving:
128
g
|
Sodium:
125
mg
|
Calcium:
64
mg
|
Vitamin C:
8
mg
|
Vitamin A:
18944
IU
|
Sugar:
11
g
|
Fiber:
4
g
|
Potassium:
533
mg
|
Calories:
98
kcal
|
Saturated Fat:
1
g
|
Fat:
1
g
|
Protein:
4
g
|
Carbohydrates:
20
g
|
Iron:
1
mg